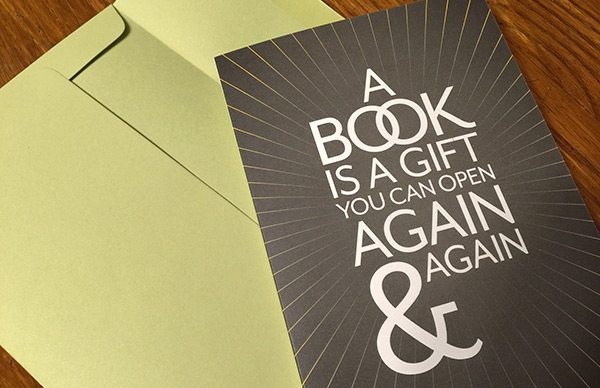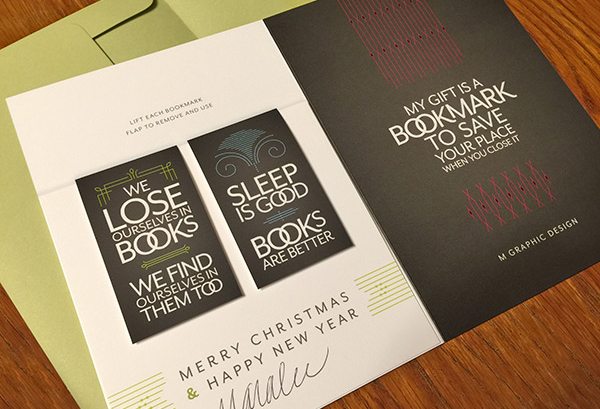 Every year, I create and send out a promotional gift. I try to make it useful, beautiful—and budget-friendly, since my recipient list has grown beyond clients and vendors, to include friends, family, and "fans" who have expressed interest in my work. You never know where a future project will come from!
This year, I designed and created a set of magnetic bookmarks. As a person who loves to read, and who also designs books, the idea felt like a good one. I surveyed a few book-loving friends to get a short-list of quotes, then started playing with typography. The overlapping O's became a repeating element that I fell in love with. One of my friends pointed out after receiving them: "I love the connected O's which look like eyes, or glasses—or even an owl (wise=readers)." When witty responses to the quotes popped into my head, I added a little unexpected surprise to the back of each:
Sleep is good – Books are better / Start here after you snooze
We lose ourselves in books – We find ourselves in them too / If you're lost, look here
The process for this project was very involved. After designing the card and devising a way to "house" the bookmarks within it, I sent all the "parts" to the printer, then set up an assembly line that eventually monopolized 2 tables. The magnets were cut from a roll then pressed under books to keep them flat. Superglue was used to adhere the magnets to the bookmarks, then they were pressed under books again. The bookmark holder card was attached to the folding card, then everything was inserted into an envelope with a business card, and sealed with a coordinating sticker.
I always enjoy coming up with and executing the idea, and I'm always excited as it comes together, but my favorite part of doing this is the receiving the feedback as people start to receive them.